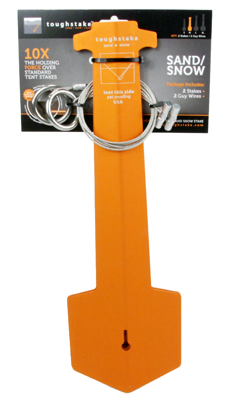 Medium Toughstake™ (2pk)
The patented Toughstake™ Medium Sand Stakes are designed to be used for anchoring in sand or snow. The Medium Toughstakes™ are one of the best sellers and most versatile products we manufacture. Small enough for ease of packing, but large enough to handle large loads, the Toughstake Medium Sand Anchors are ideal for most any structures.
We highly recommend them to be used with large tents, free standing awnings, large beach cabana's, small antenna's, mooring small watercraft, and large beach canopies. If properly set in the sand or snow, the pull out force for the Medium Toughstakes is incredible.
Price: 34.99
Medium Stake
| | |
| --- | --- |
| Weight: | 4.2 OZ / 119 G |
| Length: | 13.5" / 34.3 CM |
| Max Width: | 3.725" / 9.52 CM |
| Color: | Dark Satin Orange |
| Finish: | Anodized |
| Material: | 6061 T6 Aluminum |
| Quantity: | 2 Medium Stakes |
Medium Guy Wire
| | |
| --- | --- |
| Weight: | 0.88 OZ / 24.94 G |
| Length: | 26.5" / 67.31 CM |
| Cable Diameter: | 0.062" / 0.15 CM |
| Cable Material: | 7x7 Stainless Cable |
| Stop Swage Material: | 6061 T6 Aluminum |
| Ring Material: | Stainless Steel |
| Quantity: | 2 Large/Medium Guy Wires |